William Ray 1705-1768
What do we know of this interesting man and his influential family, who shaped the future commercial prosperity of Shop Street? The earliest records indicate that a Joseph Ray came to Worlingworth in the 1650s with his wife Sarah Sparrow, shortly after their marriage in Depden (near Bury St Edmunds) in 1652. At least five children were baptised in Worlingworth between 1656 and 1662, after which most of the family returned to Joseph's birthplace of Laxfield.
Whilst Joseph Ray spent his final years in Laxfield, his eldest son Samuel Ray settled in Worlingworth and he and his wife Mary represent one of the oldest surviving grave plots in the churchyard. We know from the tomb inscription that Samuel was a grocer; he passed away in 1738 but his legacy, according to a Town Committee book, was to give property to the parish. This was the cottage that used to be a guildhall, opposite to the church, and Samuel Ray expressed the wish that this property be used as a house for the poor of the parish - the Parish Poorhouse.
It was opened in February 1739 - a condition of the agreement was for Samuel's grandson William to approve (or otherwise) the admissions. This wasn't a problem for William Ray because a governor had been appointed to deal with the administration of the Poorhouse. Besides, William had more important business to attend to, namely his many investments.
Samuel Ray had also invested in the Red House, Worlingworth in about 1720, after the previous owner, Simon Rowse, had to dispose of the property. The Red House had its origins in the 14th century and had been in the possession of the Rous (Rowse) family for hundreds of years.
The house was acquired by William Ray and he set about building a malting-house on land to the west of the house. The malting-house structure still stands today (206 on the 1837 Tithe map shown below) though it has now been re-developed as housing. The Ray family established their grocery, drapery and spirits business in a cottage that was given to the parish by William Godbold, another landowning gent. The shop, which was for a middle class clientele, eventually became accommodation for the schoolmaster from 1875.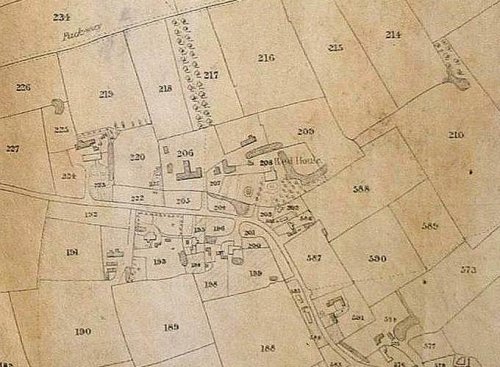 William Ray also acquired various other properties on Shop Street - we know this because we have a copy of William's will. This is extremely informative and suggests that William Ray was a good businessman and extremely wealthy when he passed away. The Ray family business empire probably reached its zenith towards the middle of the 18th century.
William Ray (d. 1764) owned land in Redenhall, Withersdale, Weybread and near to Harleston. He also owned land in Tannington, property in Worlingworth and, as already mentioned, the Red House and the associated Maltings. He would leave most of his properties and business interests to his eldest son William (d. 1790).
At some stage in William Ray's business life, an investment was made in a plantation in Jamaica. This was most likely to have been a sugar plantation and might have been linked to the brewing and spirits business developing on the Red House estate. It seems quite remarkable that this remote and sparsely populated parish should house a gentleman who owned part of the West Indies!
As mentioned previously, the Ray family's fortunes were at their height in the middle of the 18th century. By 1815, when Samuel Ray (a grandson of William) was declared bankrupt, the family had truly fallen on hard times, a fate that befell many other respectable businessmen. An indication of the spirits business in the shop is evidenced in the inventory of goods at the time of the bankruptcy - amongst the goods were 40 gallons of peppermint, 60 gallons of Jamaica rum and 340 gallons of gin!
Samuel Ray's bankruptcy came about because he owed ?100 to Jeremiah Smith of Bruisyard Hall. This might not have been a difficult debt to settle if not for a condition of his father's will that he had to meet when his mother died. He had to pay his sister ?500 which probably strained the finances. There are probably other reasons why he had to declare bankruptcy. Business might have collapsed - John Cordy's shop further up the street was popular with most of the population (the cottagers). Taxes on malt and spirits were becoming punitive.
A final humiliation for Samuel came with the closure of his shop and the employment of his son and daughter-in-law Samuel and Phyllis in John Cordy's shop after Cordy retired to Woodbridge. Samuel Ray retired to his farm in Tannington and lived into his 91st year but the influence of this family in Worlingworth was at an end by the 1840s when Phyllis Ray retired to Lowestoft.