John Cordy 1760-1828
The life of John Cordy, shopkeeper and philanthropist, represents all that we, as individuals, should aim for, for Cordy was a charitable man, both to the local educational establishments down to the commonest vagrant. And yet his personal life was clouded in tragedy up to his death in 1828.
John Cordy's family came to Worlingworth from Hethersett near Norwich via a weaver's cottage at Durrant's Bridge on the Framlingham-Dennington road. His father James Cordy was a weaver and draper; he acquired the Worlingworth shop from William Ray, who also at that time owned numerous other properties in Worlingworth, including the Red House and the Maltings.
James Cordy was twice married; his first wife Anne Adams bore him a son John and a daughter Anne before dying some six months after a third child was born (and died), at the age of 32. James Cordy then took a second wife, Martha Bradlaugh, the wedding taking place at Brandeston in 1778. This was an unhappy marriage which culminated in a sensational court case in which the wife accused the husband of shocking behaviour, a charge that was unjustly levelled at the village shopkeeper who was subsequently cleared. The wife, having been roundly vilified by supporters of Cordy, spent the rest of her life apart from her husband and she died in some obscurity in Brandeston.
James Cordy meanwhile had acquired the title and lands pertaining to the "Lord of the Manor of Southolt", a status somewhat at odds with Cordy's position as a mere village shopkeeper. This certainly did not faze the father nor the son who inherited the titles, land and properties when James Cordy died in 1808.
John Cordy had already taken over his father's business interests and supplemented his own income in a quite breathtaking fashion. At the time of the Napoleonic invasion threat in the late 1790s, Cordy acquired a brewery in Woodbridge and allegedly supplied the Woodbridge Garrison with 600 gallons of ale per day. This made his own fortune, surpassing any inheritance from his father.
The other side to John Cordy was his charity to the poor. It was said that no tramp who visited his shop in Worlingworth would leave without "bite or sup" and a few pence to see them well on their way. The most well-known of Cordy's mendicants was the poor, itinerant wandering Suffolk poet, James Chambers, who was housed in a derelict cottage by Cordy in the hope that this would persuade the man to settle - alas, within a few months Chambers was gone, back on the road again, seeking shelter in any old barn or hayloft and composing the acrostic verses he was well known for.
On the personal level, John Cordy was both blessed and blighted in later life. He married his first wife, Elizabeth Carter, at Tannington Church in 1800 but she died childless in 1810. Cordy then married Hester Johnson in the lavish surroundings of St Peter Mancroft, Norwich in 1814. Within twelve months, Cordy finally became a father in his 54th year, Hester giving birth to a girl, Elizabeth.
John Cordy undoubtedly doted on his only child, his heiress and his greatest pride and joy. He nevertheless bequeathed a substantial sum of money to each of his eight nephews and nieces, the children of his sister Ann, who had married George Edwards of Framlingham. This bequest he finally made on the same day that his child was born. Such was his joy that he rode over to Framlingham to tell his sister the great news of the birth and then informed her of his plan to give one thousand pounds to each of her children.
By a strange quirk of fate, Cordy had been able to retire from managing his Worlingworth shop and to leave it in the hands of another member of the Ray family, who themselves had previously owned the shop and its land. Thus, in his retirement, Cordy foresaw balmy summer days, bringing up his beautiful daughter in the comfortable gardens and surroundings of his mansion of Woodbridge Lodge.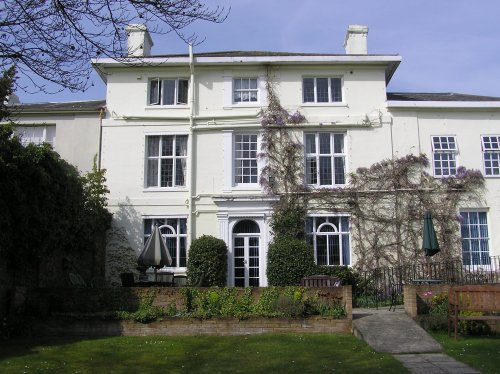 Alas! Fate dealt Cordy a massive blow when, in her eleventh year, little Elizabeth succumbed to scarlatina, just before Christmas in 1824. John and Hester Cordy were devastated by the loss. A touching verse amply demonstrated the depth of the parents feelings:
As the sweet flower that scents the morn
But withers in the rising day
Thus lovely was our cherubs dawn
Thus swiftly fled her life away.
This the blest theme that cheers our voice
The grave is not our darling's prison
The stone that cover'd all our joys
Is roll'd away, and – "she is risen".
Cordy's last few years must have been anguished ones; undeserved for a man of such benificent ways. He died on 18th January 1828; a memorial tablet was erected on the south nave wall of St. Mary's Church:
The earthly frame of Cordy moulders here,
Bedew'd by love's — by friendship's sacred tear.
In firm but modest hope, the spirit flies
Ushered by guardian seraphs to the skies.
His many virtues o'er his dust shall glow,
But these brief lines his excellence will show.
Beneficent in action, pure in mind,
Humble to God and just to all mankind.
To live like him, and in his state expire,
Will be their aim, who future bliss desire.
An appropriate and lasting memorial to a great Worlingworthonian.