James Clarke 1820-1909
The Clarke family were connected with the parish for over 200 years. Oak Farm, opposite Worlingworth Hall, was occupied by the Clarkes for nearly as long. It became a Henniker-owned farm in the early 19th century and the Clarkes diversified, buying into the Maltings business from Joseph Adams in the 1820s and the General Store from the Edwards brothers of Framlingham (beneficiaries of John Cordy) some 20 years later.
Legend has it that the horses that pulled Clarke's malt wagons from the Red House in Worlingworth to places as far as Theberton or Pulham St Mary, could find their way back to Worlingworth without the driver's assistance, who was incapable anyway!
James Clarke was born on the 13th July 1820 to James Clarke and Alicia Clutten, probably at Oak Farm. He would have enjoyed a private education and served as a journeyman draper and grocer in a business on Market Hill, Framlingham. He married Mary Spurling, a farmer's daughter, in St. Mary's Church, Worlingworth on 9th November 1841. James was earmarked by his father to manage the Worlingworth General Stores whilst his brother Edwin would occupy Oak Farm. And he ran the Worlingworth Stores for close to 40 years before retiring to Oak Farm in about 1888. It was this James Clarke for whom the first mention of the shop as "Vine House" was made in official documents. Two vines grew up the front of the shop (see below).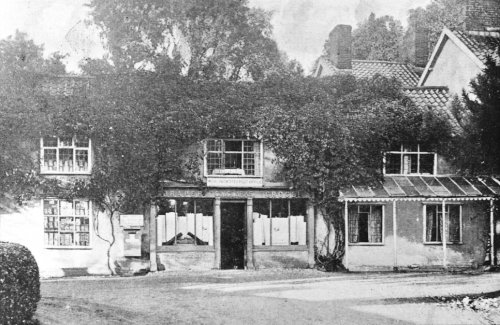 An unexplained mystery concerns his son James (b. 1842), who according to his tombstone, lost his life in New Orleans in 1877.