Worlingworth In Medieval Times
For the whole of the medieval period, the manor of Worlingworth was the property of the Abbey of St. Edmundsbury, the manor having been made a gift to the Abbey by King Cnut via Bishop Aelfric, some 30 years before the Norman Conquest. The manor remained in the Abbey's keeping until the latter's dissolution during the 1530s.
The medieval manorial records of Worlingworth offer one of the most complete sets for any village in England. The fact that these abundant records were kept through the ages may be attributable, in part, to the extreme wealth and influence possessed by the Abbey. Although rather patchy for the period prior to 1300, for the 14th to 16th centuries there is a largely complete set of court rolls, accounts and surveys. In addition, there is a map of the entire manor which was drawn up in the first decade of the 17th century and which shows much of the medieval structure of land tenure still intact. Almost all of these documents are available for inspection by the public at the Ipswich branch of the Suffolk Record Office.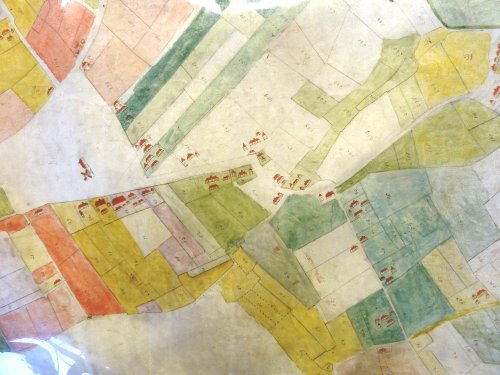 The section of map above shows Worlingworth Green, with a windmill, Shop Street and Swan Road and dates from about 1714.
A study of these documents reveals not only how the village was affected by, and responded to, the great events of the wider world but also gives a detailed commentary of the texture and fabric of the daily lives of ordinary people. In the former category we find, for instance, that over half of the population died in the Black Death of 1349 and the pestilence that returned in 1361. We see how charitable bequests in the mid-15th century led to the establishment of the first school in the village.
The manorial accounts reveal the cycle of good and bad years in the production of food that this subsistence economy depended on. We see how the village was shaped from a block of home farmland at what is now the eastern end, to its expansion with the addition of tenancies and the establishment of three greens for common grazing. Entries in the court rolls show us how the milling of corn and the brewing of beer was licensed and give us a glimpse of the sort of quarrels that developed between neighbours and how they were resolved.
These rolls also demonstrate the overarching authority and patronage of the Lord of the Manor, which was the core of the feudal system and demonstrate how that authority was implemented via the manorial officers such as the reeve and bailiff who were elected by the manor court which was attended by all males over 12 years of age.
The continuing record beyond the middle ages charts the decline of the feudal system and finally of the manor which was its basic unit.