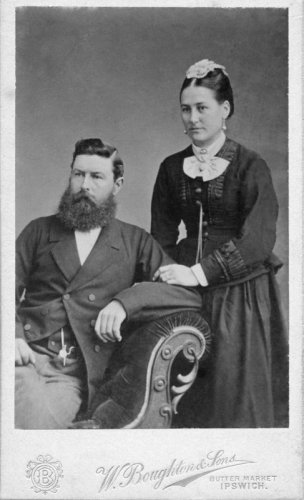 Henry Adams Cupper 1848-1923
The name "Cupper" is unusual and quite rare. Worlingworth had a churchwarden by the name of Henry Cupper, who served the church and parish for over 40 years until his death in 1810. He was a father to ten children by two wives. His last child was conceived when he was 65 years of age. He also survived smallpox in the 1790s.
Our story here does not concern this long-serving churchwarden. It concerns a great great grandson, Henry Adams Cupper, who was born at Benhall in 1845. Because this man was a direct descendant of our churchwarden, we are "claiming" a Worlingworth connection to him, even though there is no evidence that he visited Worlingworth. Rather, he was brought up in Benhall and Framlingham, educated at a private school in Yoxford and then trained by his uncle William Mudd in managing a farm. As a young farmer's son, he went into partnership with his future brother-in-law William Miles Page at Virtue's Farm, Hollesley.
His marriage to Cordelia Harriet Capon (another well-respected farming family) in 1872 was the merging of two Suffolk dynasties. However, in the darkest times of a long agricultural depression, Henry Adams Cupper made a decision to leave Britain and seek a new life in the New World.
In January 1877, Henry, his wife Cordelia and their three young children boarded the "Abyssinia" steamship in Liverpool and endured a storm-ridden journey across the Atlantic. Arriving in America on January 29th 1877, the intrepid pioneers took the railroad across the New World to Redding, California via Sacramento. Astonishingly, Cordelia gave birth to a child on the 2nd February, probably on the train journey. This journey would have taken about a week to complete.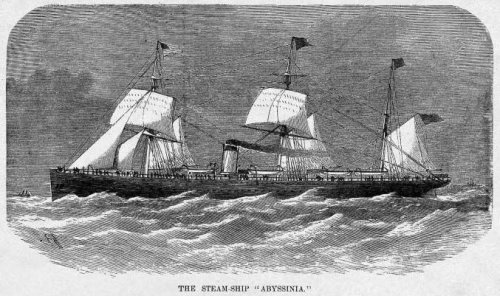 From Redding, California, Cupper and his family took a wagon train north, exploring potential settlement sites before moving into the wild expanses of Oregon. They stopped at Ashland where Henry took a job of sorts. The newborn baby died here and, as spring arrived, Henry bought a wagon and team and the family headed north once more.
They eventually settled at Monument in Grant County, Oregon and obtained a ranch and some land a few miles north-west in what is now known as Cupper Creek.
A Native Indian uprising forced Cupper and his family into Fort Heppner in 1878 and the ranch had to be re-built afterwards, though it is not known whether this was because the Indians had burnt down the original ranch. Photographs survive of the family from their early days in Oregon. The photograph below dates from 1895.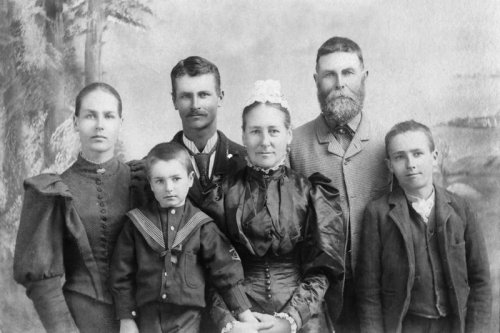 Cupper and his family briefly returned to Suffolk in the 1880s, mainly to take stock back to Oregon, including three Suffolk horses which were purchased at the sale of Robert Capon's Dennington Lodge Stud in 1887. Unfortunately, two of the three horses died. The ranch on Cupper Creek (named the Suffolk Ranch) would remain the home of Henry Adams Cupper for nearly 40 years until he retired to Salem. The couple's sixtieth wedding anniversary at Salem was captured on film (below).