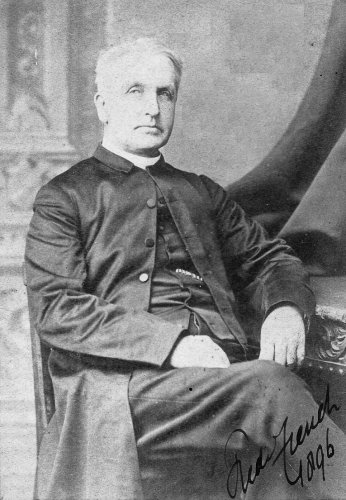 Reverend Frederic French 1823-1907
Frederic French came from an old established family from Eye, Suffolk. His father was a wealthy banker and solicitor and Frederic's grandparents owned Grove Farm in Monk Soham, a hitherto unknown local connection.
Frederic's upbringing was typical of one destined for holy orders, following his elder brother Thomas, later Rector of Thrandeston. He attended private school and went up to Peterhouse, Cambridge in 1842. He obtained his B.A. in 1847 and his M.A. in 1850. He was ordained as a deacon in 1848 and as a priest in 1850.
The death of the incumbent Rev. Edward Barlee in September 1853 left the Worlingworth living available to a suitable candidate. The patron was Lord Henniker and he would have wished to appoint a suitable replacement quickly. It was also essential that the right choice was made and in selecting a young and enthusiastic curate in Frederic French, Lord Henniker recognised the need for some revitalisation of the community, a community in which 25% of the adult population were paupers. It was also significant that Frederic's father was banker to the Henniker family.
Frederic French was inaugurated in October 1853 and would go on to serve his community for 54 years. Amongst his many virtues was his deep interest and commitment to the education of the children in the parish - he visited the school at least once a week to teach scripture. He was not only a spiritual guide to his congregation but also a great friend to many of his neighbours - be they farmers, tradesmen or just humble labourers.
Frederic French re-introduced the Harvest Home celebration to Worlingworth by holding the annual event in the grounds of the Rectory and inviting the whole parish to partake of a sumptuous dinner (roast beef followed by plum pudding). He was a firm supporter of the monarchy and commemorated Royal weddings and Jubilees with tree plantings and garden fetes, again held in the Rectory grounds. His generosity to his parishioners was indeed exceptional and he and his family also financed the restoration of our beautiful church, particularly in 1866 when the chancel was completely restored.
Rev'd French was also a Guardian of the Hoxne Union Board and a local magistrate and the rustic labourer usually quailed under the stern admonitions handed down by our priest. At the same time, he always tried to point his young errant men in the right direction and teach them the error of their ways.
There was a large family at the Rectory during the 1860s and 1870s. His sons were all educated at the premier establishments - Eton, Marlborough etc. Most of his sons built careers for themselves in India in the Civil Service. A daughter, Kate, became a deaconess. Dora French, an accomplished musician, married Colonel James S. Wilkins, the superintendent of the concentration camps in South Africa. Dora died in childbirth in 1906, an event that Frederic probably never recovered from. He died in October 1907 aged 84.
The French family contributed positively in many ways to the development of our parish. Their contributions are not forgotten and the many memorials to the family in the church remind us still of that golden era long ago.