The Parish Workhouse
The former Parish Workhouse or "Poor House" still stands today and is situated opposite St. Mary's Church. Originally a guild-hall, it was converted into a house for the poor in the late 1730s and would remain open for nearly 100 years until the Hoxne Union was formed and a Union Workhouse was established at Stradbroke.
It is now known, from documents studied at the Suffolk Records Office, that Samuel Ray, a grocer, draper and wealthy gentleman, offered the "cottage" to the chief inhabitants of the parish for conversion into a poorhouse. Mr Ray's bequest was carried out two years after his death in 1737.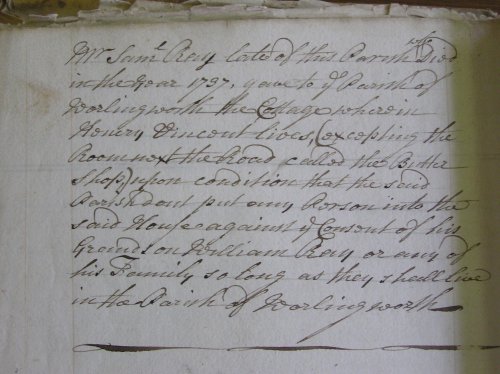 The House was capable of accomodating 35 persons, many of whom would have been old and infirm. There would have been accomodation for families with children; a husband and wife with many children would probably have had to sleep in one room.
Any parishioner who was unable to support themselves could apply to the Town Committee for parish relief which could be in the form of money, flour, coals and clothes, paid or given, in most cases on a weekly basis. This relief was either given to occupants of the Poorhouse who were incapable of supporting themselves in rented accomodation or as "out relief" to those with a roof over their heads but who could not feed or clothe their families or themselves.
This was all paid for by the imposition of a tax on land, calculated by the parish overseers at a rate of so many pence in the pound. This was known as "the Poor Rate" and was collected by an appointed overseer, one of the principal inhabitants of the parish. A governor was appointed annually to manage the House under specific terms and conditions such as "three meat dinners to be provided to the poor each week".
It is difficult today to imagine how it was 200 years ago but, even in such an idyllic setting, a transfer to the poorhouse might have been the beginning of the end for the few unfortunate enough to be consigned there. Despite the best efforts of the governor and the "Worlingworth Town Committee", unsanitary conditions would have encouraged disease, as evidenced by the outbreaks of typhus in the 1820s.
The Worlingworth Poorhouse closed, by order of the Poor Law Commissioners, in 1836 and the house contents (brewing utensils, furniture, etc) were auctioned at the Swan Inn in September of that year. The house would then be converted into six separate dwellings - four in the main house and two in the eastern annexe.